Sun On-Demand Lighting Solutions – For Algae

Algae has immense potential to help heal our planet and improve human health.
The key to cost-effectively exploiting algae's potential lies in the fast production of biomass through exposure to natural sunlight.
For companies growing algae indoors, our Sun Light™ and Sun Power™ Systems provide a new opportunity to obtain the highest possible yield, lowest energy costs, and the highest quality products.
To maximize algae concentration and biomass, sunlight should be supplied throughout the interior of growing tanks and tubes. The common practice of directing lights from the top or outside of large tanks (i.e., an external light source) causes the algae to concentrate close to the surface and sidewalls and block infiltration of light into the interior.
Our patented Sun Light™ and Sun Power™ Systems are designed to provide real sunlight from the inside. Our solutions are especially suited for bubble column and air-lift algal bioreactors, and can easily enable the scaling up of bioreactors. Please review our specifications to learn about applying our solutions to your specific algae grow.
Some of the best uses for our lighting systems are listed below: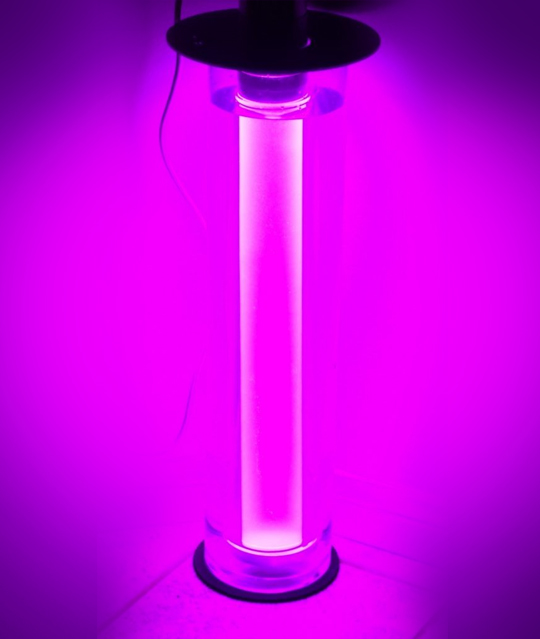 Algae-based Commodities [DY1] – there is exponential growth projected for algal derivatives including antioxidants, plant proteins, and omega fatty acids.
Bioremediation – environmental restoration, such as cleaning up petroleum contaminants and removing radioactive metal contaminants from polluted groundwater.
Bioenergy – producing bioelectricity, especially in remote environments.
Microbial Electrosynthesis – an artificial form of photosynthesis that offers the possibility of converting sunlight and carbon dioxide to desirable organic compounds much more efficiently and sustainably than biomass-based processes.
Bioelectronics – using Geobacter to produce protein filaments that conduct electrons with metallic-like conductivity, with the possibility of making electronic sensors and other devices.

Benefits
 
 

MAXIMUM YIELDS

Increase your yields with faster growing algae and get better quality plants with our Sun On-Demand Lighting Solutions.

THRIVING PLANTS

A controlled indoor setup provides a natural way to manage pests & contaminants. Algae grown under our lighting systems also have a higher concentration of oils, carbohydrates, sugars and proteins.

 

CUSTOMIZED SETUPS

For specific algae or installation where no heat can be tolerated, the light source can be installed in another room and light sent directly to the plants.


COST EFFECTIVE

In addition to the most dense light on the market, you'll see little heat waste and 60 to 140 lumens of light output per watt of electricity ( twice as efficient as daylight LEDs). Customers electricity cost savings range between 25% and 75% for lighting and lighting-related air conditioning costs, allowing for short system payback periods.

EFFICIENT

Our 100,000-hour bulb lifespan means a strong ROI, short payback period and lower maintenance costs.

SUSTAINABLE

We replicate the sun because we care about healthy plants, but we also care about healthy people, places, and planet, taking the utmost care in our system designs. All of the pieces in our lighting systems are recyclable, and contain no mercury.
Specifications
The page below includes key specifications and spectral information for the Sun Power™ and Sun Light™ systems.
These systems use different bulbs and components which create different types of benefits. Visit the Sun On Demand page to find out which system will best suit your needs.
Sun Power™ Systems
Sun Light™ Systems
Table Notes
Description
Most powerful light on the market
Best light quality and match to the sun's spectrum
Class
CCA
AAA
PPF
>2,500
>2,000
Micromoles/s
PPFD
2,500
2,000
Micromoles/s/m2 at one meter from light.
Input Wattage (per bulb)
500 to 1,300 W
500 to 1,300 W
Fully dimmable, 230 input Volts
Average Lumens/W
145
110
Light Area
21 m2 (225 ft2) with two Sun Power bulbs (veg only), plus two 600 W HPS (flowering)
21 m2 (225 ft2) with two Sun Light bulbs and two 600 W HPS
Light Spectrum
Can focus on any color in the spectrum
Full spectrum sunlight
Can make customized gas mixtures based on customer preferences
Color Temperature
8,240
5,650 (exact daylight)
Color Rendering Index (CRI)
82.5
99
Luminous Flux (lumens)
>145,000
>110,000
Extremely stable
UV
No UV
UVA/UVB custom tuned to ground level percentages. No UVC.
System Lifetime
100,000 hours with service at 25,000 (5 to 9 years)
Materials
Fully recyclable and do not contain mercury or other poisonous ingredients
Sun Power™ System – Spectrum

Sun Light™ System- Spectrum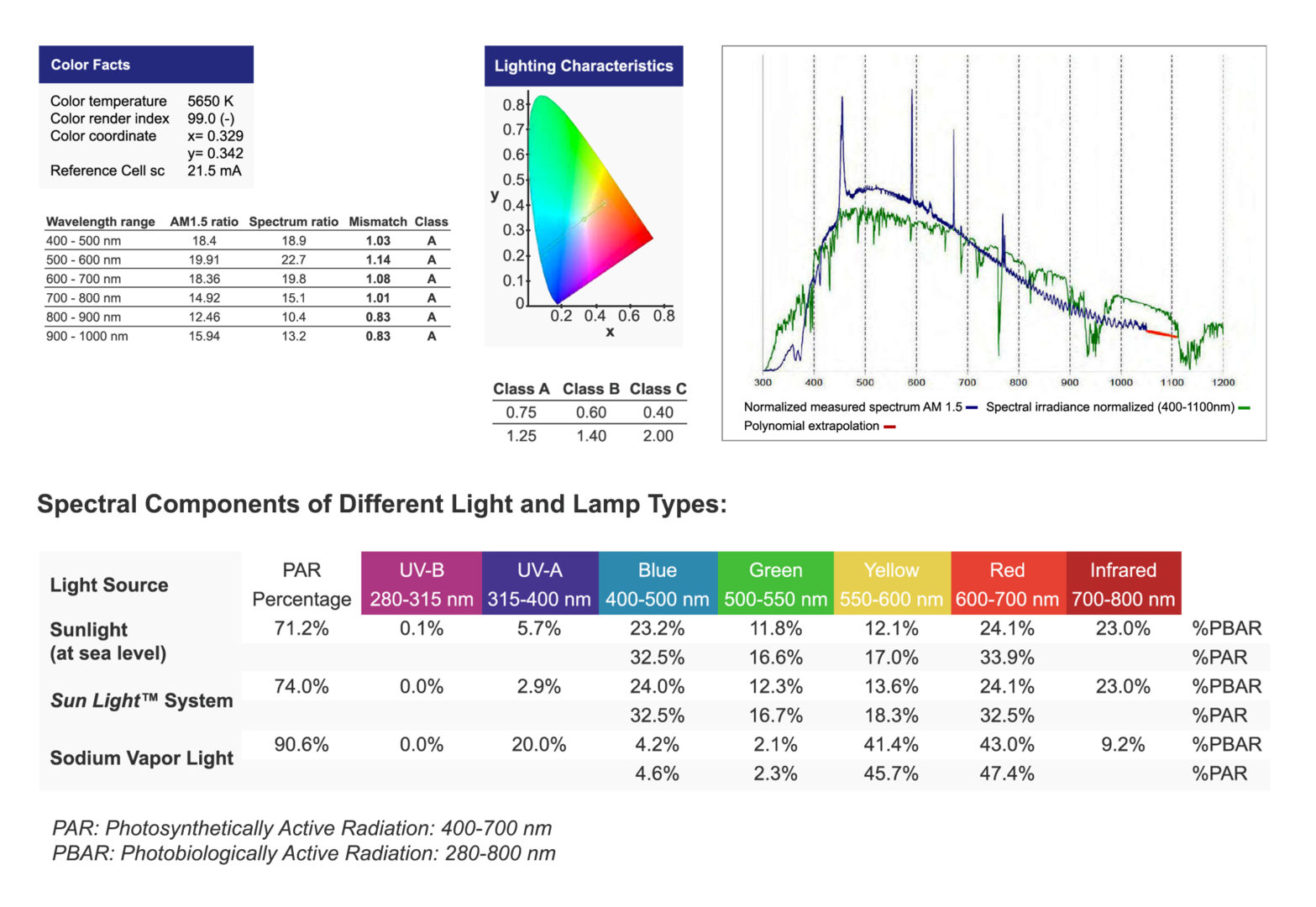 Don't compromise on quality of your algae with traditional growing systems. Contact us today to learn how our Sun On-Demand Lighting Solutions can create healthier plants and profits for your company.
LEARN MORE