Sun On-Demand Lighting Solutions – For Businesses
Natural sunlight provides well-documented benefits to people's health and wellbeing. Healthier and happier employees are more productive, improving your company's performance and profits.
Our Sun On-Demand lighting solutions use the latest plasma light technologies to help you become more sustainable and efficient.


Case Studies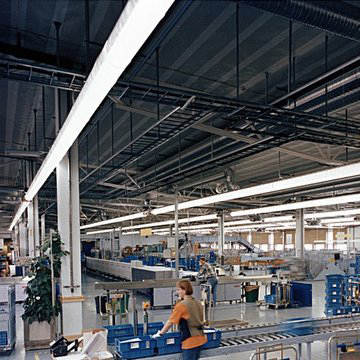 Plasma Lights vs. Conventional Fluorescents
A study conducted by the Lighting Resource Center found employees preferred working under the plasma lights over traditional fluorescents. Employees at the Swedish Post terminal in Sundsvall sorted through mail under plasma lights, while their peers in the town of Umea worked under fluorescent.
The Sundsvall office staff reported better comfort, fewer shadows and less glare from the plasma lights. Findings also confirmed that the plasma lights far surpassed the efficiency of traditional T8 fluorescent lamps.
Hill Air Force Base- Plasma Lights
Utah's Hill Air Force Base reported several benefits from implementing plasma lights in their aircraft hangers. In partnership with the U.S. Department of Energy, their goal was to install a system that would pay for itself in savings while also increasing existing light levels and light quality for workers.
With a 7.12 year payback, the plasma lights produced lighting levels that were 130% to 160% brighter than the previous lighting system. Workers in the building reported improvements in reading small lettering and color coding on control panels, due not only to higher light levels but also to excellent color rendering.
Under the current models of the plasma lights the time necessary for payback would decrease to 2 years and the light levels would increase 2 fold but with uniform coverage and full spectrum sunlight.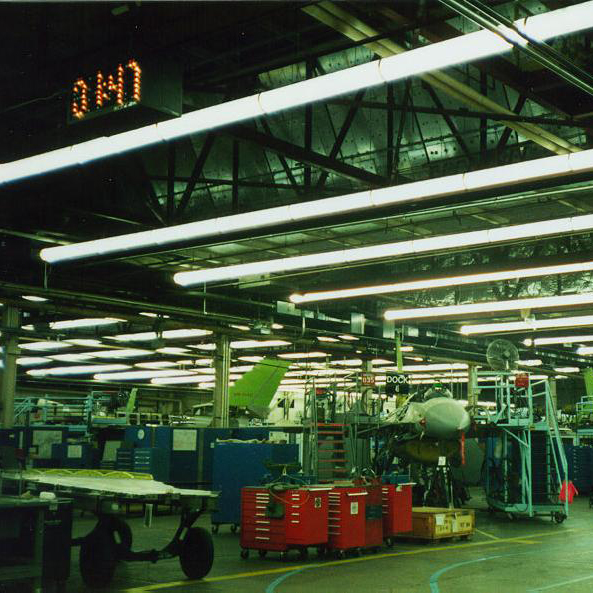 Benefits
 
 

INCREASED PRODUCTIVITY

Sunlight provides many health benefits. Healthy people means less absenteeism, higher productivity and fewer wasted resources. Under pure sunlight, quality assurance is more accurate due to increased visibility.

HAPPIER EMPLOYEES

Exposure to sunlight increases the brain's release of serotonin, fighting stress and boosting mood levels. Post-exposure sleep is deeper and results in waking in a more rested state.

 

LOW MAINTENANCE

Healthy buildings are efficient and easy to maintain. Our system's 100,000-hour bulb life span means less maintenance and lower upkeep costs.


REDUCED COSTS

Cut your electricity costs and see healthier profits with this efficient lighting system. Our Sun On-Demand Lighting Solutions produce 60 to 140 lumens of light per watt of electricity, which is twice as efficient as daylight LEDs.
Specifications
The page below includes key specifications and spectral information for the Sun Power™ and Sun Light™ systems.
These systems use different bulbs and components which create different types of benefits. Visit the Sun On Demand page to find out which system will best suit your needs.
Sun Power™ Systems
Sun Light™ Systems
Table Notes
Description
Most powerful light on the market
Best light quality and match to the sun's spectrum
Class
CCA
AAA
Input Wattage (per bulb)
500 to 1,300 W
500 to 1,300 W
Fully dimmable, 230 input Volts
Average Lumens/W
145
110
Light Spectrum
Can focus on any color in the spectrum
Full spectrum sunlight
Can make customized gas mixtures based on customer preferences
Color Temperature
8,240
5,650 (exact daylight)
Color Rendering Index (CRI)
82.5
99
Luminous Flux (lumens)
>145,000
>119,000
Extremely stable
UV
No UV
UVA/UVB custom tuned to ground level percentages. No UVC.
System Lifetime
100,000 hours with service at 25,000 (5 to 9 years)
Materials
Fully recyclable and do not contain mercury or other poisonous ingredients
Sun Power™ System – Spectrum

Sun Light™ System- Spectrum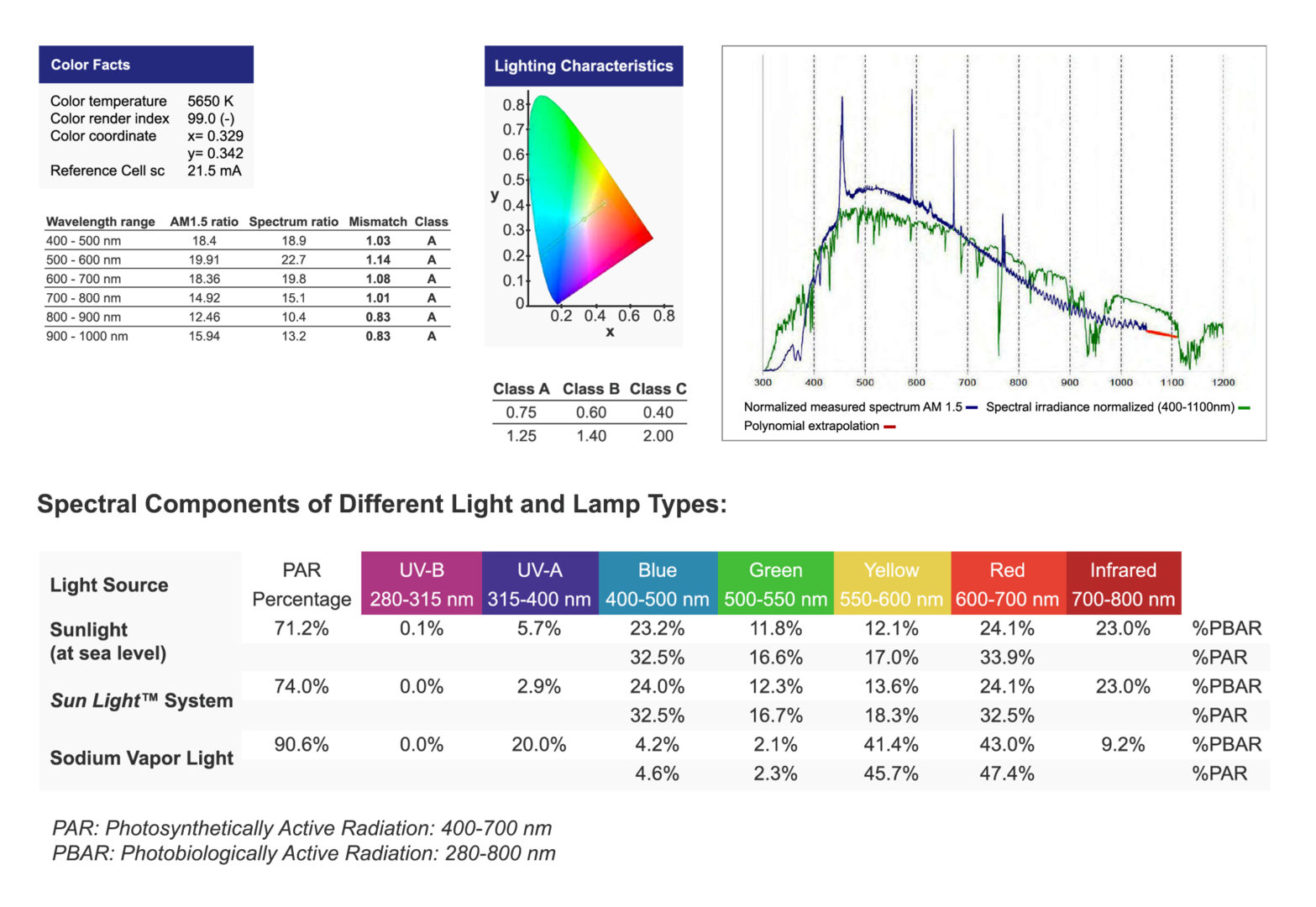 Don't miss out on this opportunity to boost your employee's health and productivity while cutting your utility costs! Contact us today to put the right lighting system in place and create healthier profits, people and places in your company.
LEARN MORE